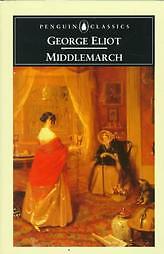 "Gift dig och du skall ångra det", skriver Kirkegaard, "eller gift dig inte, du skall ångra båda delarna". Så börjar som bekant
Maken
och så hade även George Eliot kunnat inleda den formidabla, underbara tegelstenen
Middlemarch
, där huvudpersonernas karaktärer testas och formas i just äktenskapet, bestämt av benhårda sociala konventioner. Då hjälper det inte att romanen befolkas av exceptionella personligheter:
"For there is no creature whose inward being is so strong that it is not greatly determined by what lies outside it. A new Theresa will hardly have the opportunity of reforming a conventual life, any more than a new Antigone will spend her heroic piety in daring all for the sake of a brother's burial: the medium in which their ardent deeds took shape is forever gone."
I
Middlemarch
möter läsaren ett antal personer av vilka ett fåtal faktiskt har heorisk potential. Men som citatet - och boktiteln - anger saknas den lämpliga heroiska bakgrunden; den scen på vilken hjältarna står är realismens och med en kyla som inte står de grekiska gudarna efter utsätter Eliot sina huvudpersoner för grymma, om än högst vardagliga sociala experiment. När samtida böcker slutar med äktenskap börjar hennes med giftemålet och frågan: Sedan då? Vad händer med aspirationerna, idealen och drömmarna?
Ämnesvalet gör att man oundvikligen börjar fundera över George Eliots förhållande till oäkte "maken"
George Henry Lewes
. För att inte tala om ens egna relationer. I
Middlemarch
brister hur som helst alla ideal under det sociala trycket, likt "that river of which Cyrus broke the strength", vilken därför "spen[ds] itself in channels which had no great name on the earth". Fast 800 sidor tragedi står få ut med och Eliot ger läsaren hopp då hon lovar att små bäckar också fyller en viktig, fast oftast mindre synlig funktion.
Låter det ändå dystert? Det är det inte. Men den som älskar viktorianska romaner enbart för deras melodramatik, slängkappor, giftmördare och föräldralösa barn ska kanske inte ge sig i kast med den här boken. Virginia Woolf har skrivit att
Middlemarch
är en av få engelska romaner som vänder sig till
vuxna
läsare. Det är en närmast perfekt bok att smita undan med under juldagarna och det finns sidor över för alla eventuella resor. När året rings ut bör man heller inte ha några problem med att formulera nyårslöftet. Romanen tillhör nämligen den högst ovanliga kategorin böcker som får läsaren att vilja bli en
bättre människa
.