Penhaligons Juniper Sling bar jag så gott som varje dag förra sommaren. Köpt i butiken på King's Road och frisk som en gin och tonic i New York-värmen. Den liknelsen är inte långsökt för precis som gin doftar Juniper Sling enbär med inslag av citrus. Det här är alltså en riktigt boozig och lätt pepprig doft, med en förnimmelse av bränt socker efter en stund. Uppfriskande, elegant och olik allt annat. Och vilka associationer! 1920-tal, förbudstid och olaglig spritsmuggling. Men också glamour och vilda fester. Allt detta hittas i F. Scott Fitzgeralds överlägset bästa roman.
"No--Gatsby turned out all right at the end; it is what preyed on Gatsby, what foul dust floated in the wake of his dreams that temporarily closed out my interest in the abortive sorrows and short-winded elations of men."
Berättelsen om bondsonen Jimmy Gatz, som återuppstår som miljonären Jay Gatsby, är till skillnad från de flesta mäns problem en verklig tragedi, menar huvudpersonen Nick i F. Scott Fitzgeralds The Great Gatsby. Trots förbudstiden flödar alkoholen i romanen, inte minst under de extravaganta fester Gatsby anordnar ute på Long Island i syfte att göra Daisy Buchanan, hans ungdomskärlek, uppmärksam på hans nya existens. Speakeasies, bootlegging - tiden medförde en rad nyord och Gatsby associeras med båda dessa i romanen, eftersom hans förmögenhet vunnits på olaglig väg genom spritsmuggling.
Men det är ju inte bara alkoholkonsumtion som skildras i romanen utan också 1920-talsglamour: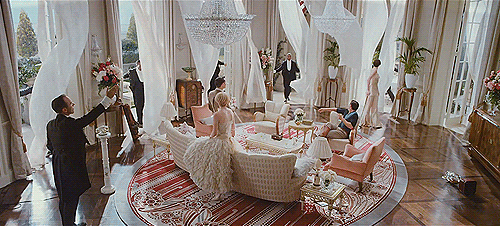 "We walked through a high hallway into a bright rosy-colored space, fragilely bound into the house by French windows at either end. The windows were ajar and gleaming white against the fresh grass outside that seemed to grow a little way into the house. A breeze blew through the room, blew curtains in at one end and out the other like pale flags, twisting them up toward the frosted wedding cake of the ceiling--and then rippled over the wine-colored rug, making a shadow on it as wind does on the sea."
Gatsby kunde ha burit Juniper Sling om den funnits då, Daisys sportiga väninna Jordan gör det helt klart. Daisy själv är lite för vek och feminin för att bära doften. Hon passar bättre i något blommigt och snällt. Den som vill leka 1920-tal kan f.ö. söka sig till nutida speakeasies. New York har flera, men min favorit ligger i Londons Earls Court, precis mittemot det hus i vilket jag och Mr B en gång bodde.
Ring på klockan till Evans and Peel Detective Agency och berätta om ditt problem för detektiven i källaren. Om du har tur knackar han eller hon på bokhyllan bredvid sig och vips öppnas dörren till ett helt annat rum. Välkommen till Gatbys och Mr Wolfsheims värld.