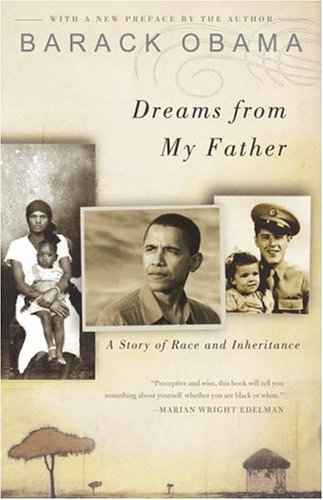 Efter en läsning av
John McCains självbiografi
är det presidentkandidaten Barack Obamas tur. Alltså, vilken typ av berättelse kommunicerar och förkroppsligar Obama? Liksom McCain refererar han till sin far redan i titeln.
Dreams from My Father
handlar precis som McCains bok om en ung mans försök att leva upp till pappans rykte, förhoppningar och drömmar.
I Obamas fall försvåras processen av att pappan är en främling som återvänt till Kenya medan sonen och den vita, amerikanska hustrun bor kvar på Hawaii. Följdaktligen skildras ingen relation mellan far och son. Istället börjar boken med uppväxten på Hawaii och i Indonesien, dit mor och son flyttar när modern gifter om sig. En tredjedel in i berättelsen beskriver Obama sin tid i Chicago som lokalpolitisk organisatör och till slut resan till Kenya, där han äntligen träffar pappans familj.
Miljöbytena till trots står Obamas sökande efter en identitet hela tiden i centrum. Sökandet kompliceras av den idealiserade bild han har av fadern som medborgarrättskämpe. Inte vit, men inte heller svart ur ett kulturellt perspektiv har Obama svårt att helt förlika sig med den radikala retorik som präglar hans universitetsår. Samtidigt är han medveten om den roll hans hudfärg spelar i det amerikanska samhället. Självbiografin skildrar sökandet efter ett sammanhang där de speciella omständigheterna kring hans uppväxt inte behöver förnekas eller försvaras. Fast mest handlar det egentligen om Obamas egen förlikning med sitt ursprung. Ingen annan verkar egentligen ha något större problem med vem han är eller varifrån han kommer.
Boken slutar som sagt i en förlikning. I Kenya inser han att pappan aldrig levde upp till sina egna ideal, vilket lättar pressen på sonen. Samtidigt uppstår viljan att faktiskt förverkliga pappans drömmar. Majoriteten av självbiografin präglas trots det av ilska och frustration. Just den inre striden påminner mig om Malcolm Xs självbiografi, även om Obama aldrig förespråkar Malcolm Xs separatism. Det vore å andra sidan omöjligt utan att också förneka både modern och hennes släkt (vilket han iofs nästan gör).
Dreams from My Father
skrevs innan Obamas tid som professionell politiker. Tydligen följde bokkontraktet på hans utnämnande som den förste afro-amerikanske redaktören för prestigefyllda tidsskriften
Harvard Law Review
. Mao är det väl inte konstigt att just identitetsfrågan dominerar berättelsen.
Obama vänder på varenda sten, ifrågasätter varje eventuell självlögn och vanföreställning. Hans envisa ifrågasättande tyder på en väldig intellektuell ärlighet. Eller gör det verkligen det? Jag känner mig som en riktig cyniker, men till slut står mig Obamas verbositet och självrannsakan upp i halsen. Han skriver verkligen bra och berättelsen är ganska spännande om än väl lång. Men varenda liten händelse har en betydelse som måste underordnas den inre resan eller det större sammanhanget. Det känns till slut alldeles för tillrättalagt, alldeles för fiktivt helt enkelt. Just för att Obama sätter ribban så mycket högre än McCain (språkligt, tematiskt), blir fallet också längre. Trots det lyckas han förmedla en tro på att förändring är möjlig om man bara arbetar tillsammans.
Dreams from My Father
måste nog läsas som en ung man-skildring, precis som McCains självbiografi. Man får hoppas att Obama nått en högre grad av inre mognad vid det här laget. Vet inte om det är en fördel att en president vrider och vänder på en fråga alltför länge. Vad gäller hans idealism, är det väl den som både entusiasmerar och avskräcker amerikanska väljare. Hursomhelst, jag råkade av misstag köpa hans politiska manifest
The Audacity of Hope
(trodde det var självbiografin) och kommer definitivt att försöka läsa den också. Men det får bli senare. Mitt behov av politisk litteratur är för tillfället
fullt
tillfredställt (vilket innebär att halvlästa
Black No More*
också åker tillbaka upp i bokhyllan).
*) vars författare heter George S. Schuyler och
uttalas
[sk'ajler]!